Unexpected events can disrupt an organization: natural or human-made disasters, cyberattacks, or system failures. In order to avoid significant revenue losses and customer attrition because of bad experiences caused by disasters, it is imperative to strategize and implement disaster recovery.
Disaster recovery plans and procedures should be tested continually so organizations can restore mission-critical applications and data reliably. When disasters strike, they can recover quickly from them and bring back mission-critical services and applications to mitigate the impact on business operations.
Disaster recovery relies heavily on backup processes and technologies. Accordingly, some organizations rely on continuous backup solutions to achieve better recovery point objectives—which is the amount of acceptable data loss measured in time units like hours or minutes—using machine or application snapshots for recovery before a disruption occurs. MSPs with hundreds of clients to support can find this particularly challenging. Backup and disaster recovery solutions should be scalable and encapsulated from disasters.
Listed below are 7 Great Disaster Recovery Solutions to help businesses prepare for disasters.
BackBlaze
Backblaze isn't modest about promoting its popularity: on its homepage, it says that it stores more than an exabyte of data (that's a million terabytes or eight million Galaxy S20 phones), and has recovered more than 50 billion files since it launched in 2007. It knows what it's doing when it comes to cloud backup.
That's all very reassuring when it comes to signing up for Backblaze, which offers a variety of paid-for packages for personal and business users – if you've got data that needs backing up, Backblaze will do it for you. It also offers unlimited cloud storage, so your cloud locker can keep growing indefinitely as the amount of data you've got keeps on growing.
Backblaze features
Backblaze takes the position that you don't need to know the details of your backup plan, just that it is occurring: when you install the desktop client for the first time, it doesn't ask you to pick out files and folders, but just grabs all the files and folders it considers important and starts transferring them to your Backblaze cloud storage.
By default, Backblaze copies everything that isn't an ISO, DMG (Mac disk image), a virtual drive, system files or executables. You can exclude other file types if you wish, but unless exclusively told to ignore them all other file types will be included. It's all very simple and straightforward, and you get peace of mind straight away that your entire computer can be recovered if needed.
This is very much a set-it-and-forget-it solution: Backblaze is there to help you recover data if your hard drive suddenly fails or your laptop falls in the bath. It's not for syncing files between computers or getting at your music and video files in the cloud. You can include external hard drives and (on a business plan) servers in your backups, but networked drives can't be included.
Backups can be continuous, once a day, or initiated manually. Some extra variety with those timescales would be nice, but we expect the majority of users will leave it set to continuous backup mode. It's worth noting that while you can back up an unlimited amount of data, you are restricted to one computer for each Backblaze account, and mobile devices aren't included.
Backblaze interface
The desktop client you get with Backblaze isn't particularly innovative or intuitive – but then again, it doesn't have to be. There are a limited number of options with a Backblaze package, so the software doesn't have to do much except make sure that your files are getting continuously backed up in the background.
You can exclude certain files and folders from a Backblaze backup, but it's not particularly straightforward to do. Considering you get an unlimited amount of space in the cloud, it's easier to just let Backblaze back up everything, just in case. Transferring data from an entire computer to the web can take some time, but we were impressed with the speeds Backblaze managed (you can choose to pause or throttle the upload process if you think Backblaze is taking up too much bandwidth).
Like the desktop client, the web interface is also cut down and minimal, letting you review backed-up files and restore them if needed. There's also a mechanism for sharing stored files to others that are exclusive to the web interface. Dropbox, Google Drive or iCloud certainly isn't in terms of web functionality.
In the advent of a system failure or loss files can be downloaded in a zip file for free, or Backblaze will put them on a Flash drive or physical USB hard drive for an extra fee and send them to you. While it may not do much beyond suck up all the files on a computer and let you restore them, Backblaze does these core jobs very well.
Backblaze security
Backblaze scores highly from a security perspective: not only can you enable two-step authentication on your account, you can also rely on AES 128-bit encryption and an SSL connection to avoid your data being intercepted as it passes over the internet. It's not full end-to-end encryption but it's certainly going to be safe enough for most users.
You can, if you want, set up a private encryption key, known only to you, which adds an extra layer of protection to your data (if you're worried about Backblaze staff prying into your affairs). However, if you set this up, Backblaze can't help you if you forget the key, and you need to tell Backblaze what it is if you ever need to restore your data.
Backblaze pricing
You can try Backblaze for free for 15 days without giving up any credit card information, but there's no free tier (as you would expect as you're getting unlimited cloud storage). Personal plans cost from $6 a month, though you can sign up for a year for $60 (the equivalent of $5 a month) or for two years for $110 ($4.58 a month).
The pricing is actually the same for business customers, although you can contact Backblaze direct for different quotes on backing up multiple computers and servers, and on putting more of your data in the cloud for long-term storage (replacing tape backups, essentially). It's good to see this sort of bespoke, flexible pricing, but it does make it more difficult to compare Backblaze against other services of course.
Backblaze verdict
Backblaze has a lot of users and a lot of fans, and it's easy to see why – if you want to back up everything from one computer and its external drives, simply and securely, without spending too much, then it's hard to beat. There are no limits on file sizes or the amount of data you can send to the cloud.
Just be certain you know exactly what Backblaze is before you part with any cash: it's not for syncing files between computers or getting easy access to your files through a web browser. It's a comprehensive, set-it-and-forget-it backup solution for protecting your data should the worst happen, and at that job it's excellent.
Manage with MSP360
Servers are complicated, backing them up doesn't need to be. MSP360 provides easy-to-use, advanced backup and disaster recovery solutions for businesses.
MSP360™ Managed Backup (MBS) is an easy-to-use backup solution for Managed Service Providers and IT departments that require a centralized license and job management, monitoring, and reporting. MBS allows you to leverage AWS, Microsoft Azure, Backblaze B2, and Wasabi cloud storage to drive more revenue and deliver best-in-class data protection to your customers.
Set it and forget it. Manage multiple servers with granular control from the web-based admin console.
Advanced backup features to protect your data. Flexible scheduling, compression, encryption, and ransomware protection.
Low-cost and high-performance cloud storage allows you to scale as you need and only pay for what you use. Migrate large data sets using the B2 Fireball with zero impact to your network.
SolarWinds Backup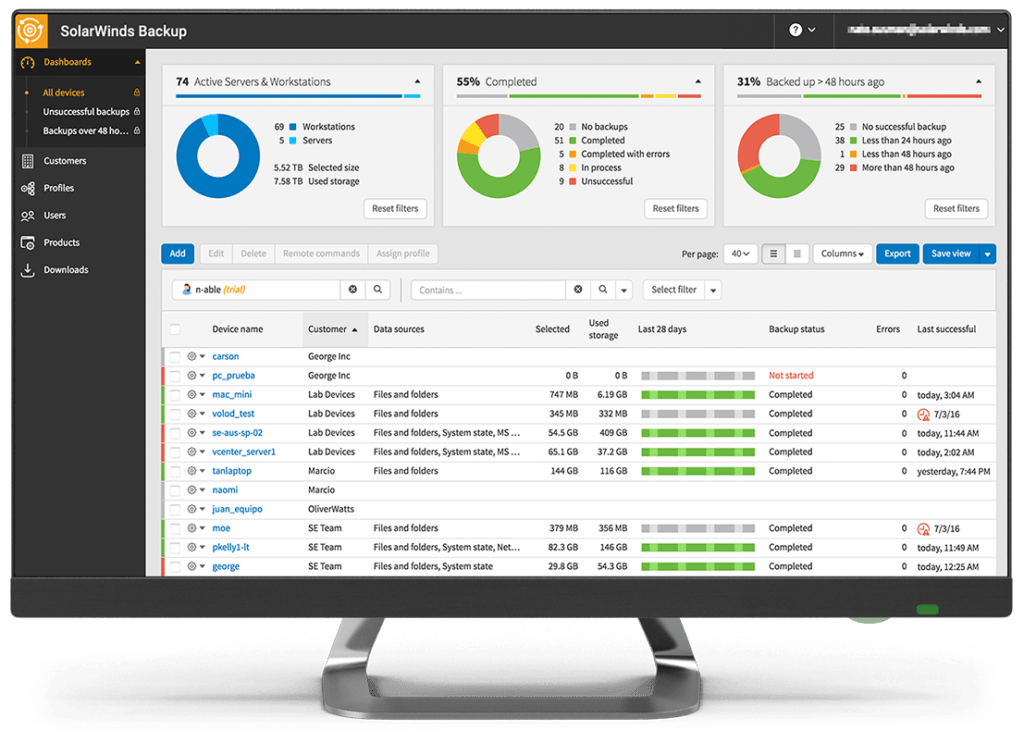 SolarWinds MSP Backup is a backup and disaster recovery solution that performs backups using an agent installed on physical or virtual servers.
In addition to backups, it also offers an archiving service for longer-term data storage, and it provides granular control over what to archive. Subsequently, this archived data can help in auditing, compliance demonstration, and other data retention purposes.
Besides, it doesn't require maintaining a secondary data centre, as SolarWinds Backup stores and manages data in its private cloud, with 30 data centers across four continents. Moreover, these datacenters are either ISO- or SOC-compliant.
SolarWinds Backup uses AES 256-bit data encryption to encrypt data when stored and transferred. Additionally, SolarWinds Backup offers custom encryption keys that are privately held by the organization or MSP—in other words, it's built so even SolarWinds MSP can't unencrypt data.
Moreover, it gives the flexibility of maintaining standby servers with continuous restores, used to offer quick failover and drastically reduce downtime. SolarWinds Backup also allows replicating machines in a chosen local data center or Microsoft Azure.
Microsoft Azure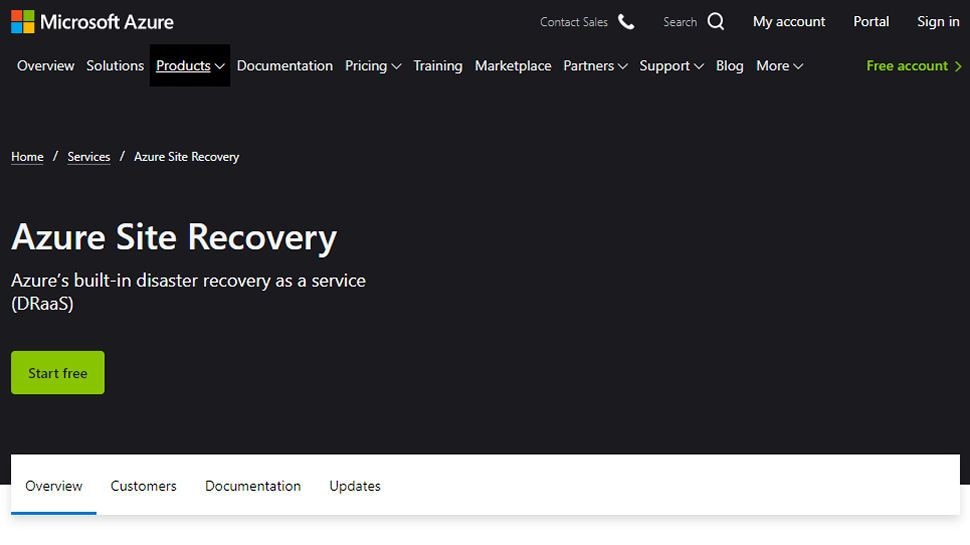 Microsoft Azure offers Azure Site Recovery and Azure Backup that work in tandem to provide disaster recovery and backup. Azure Site Recovery helps to back up on-premises workloads to Azure and Azure workloads to different availability zones. In a disaster, organizations can quickly replicate on-premises workloads on Azure and perform failback procedures when the primary data centers recover.
Azure Site Recovery also helps in performing disaster recovery drills without impacting ongoing replication processes. And it allows running failovers for expected or unexpected disruption without losing any data.
Azure Backup allows organizations to back up files, VMs, and SQL databases, as well as SAP HANA databases running on Azure VMs. It offers storage redundancy in local, geo, and zone levels. Moreover, it can perform application-consistent backups that contain all the required data to restore an application.
Barracuda Backup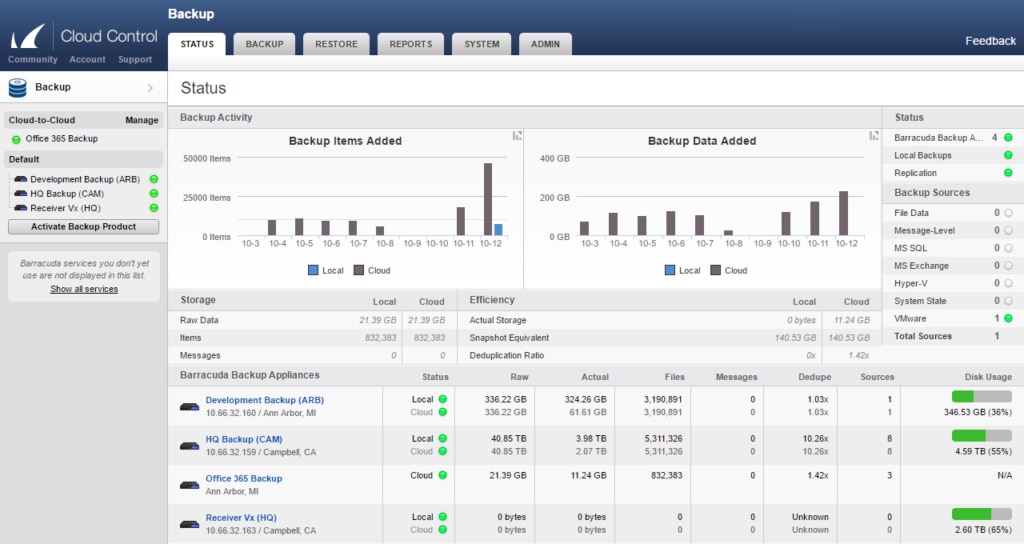 Barracuda Backup can back up data from a wide range of sources, including physical and virtual machines, SaaS applications like OneDrive and SharePoint, and SQL databases. Further, it allows replicating backup data to other data centers, AWS, or Barracuda cloud storage. It supports machine recovery through snapshots and allows you to granularly recover only specific files depending on the situation. Barracuda Backup offers various solutions:
Barracuda Backup Appliance, a physical appliance for backups
Barracuda Cloud to Cloud helps to manage Microsoft 365 backups
Barracuda Virtual Backup for direct using it on an organization's hardware
Full cloud-based management from one console
SolarWinds RMM and N-central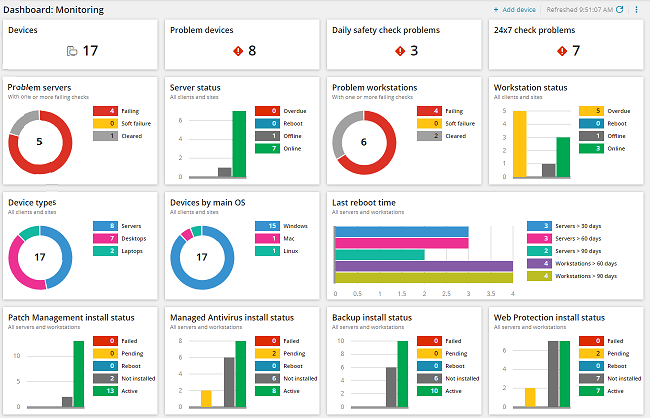 SolarWinds RMM is a comprehensive remote monitoring and management tool that also provides backup and recovery features. It uses TrueDelta™ technology that only stores changes from the last backup, quickening the backup process. Plus, it can back up individual files, servers, applications, and entire systems in a cloud environment and facilitate rapid recovery in the event of a disaster. Further, it's built for secure data transfers and encrypts data using AES 256-bit encryption.
Similarly, SolarWinds N-central® is another remote monitoring and management tool that features Backup Manager, which facilitates data protection through backups and provides disaster recovery.
TierPoint
TierPoint offers fully managed, as well as self-service disaster recovery solutions. It facilitates cloud-to-cloud failover to TierPoint private or multitenant clouds. It also supports failover automation that helps teams recover from incidents in a shorter time. It also helps to perform replication and recovery to Azure and allows recovering physical servers to the cloud. Furthermore, TierPoint helps to perform disaster recovery setup and testing in accordance with regulatory compliances, such as HIPAA and PCI DSS.
Flexential DRaaS
Flexential DRaaS is a fully managed service for on-premises as well as cloud environments. Its Recovery Cloud aims to achieve low recovery time objectives and recovery point objectives. It also focuses on providing secure and compliance-based solutions and has five different DR locations across the U.S. It allows testing as needed and provides the flexibility of replicating to a Flexential recovery site or any other chosen data center.
Conclusion
Customer experience is the cornerstone of business growth and revenue generation, and disasters are among the most significant threats. A simple look at stats on disaster and cyberattacks reveal how frequently they occur:
As disasters represent severe threats to organizational operations, businesses must prepare for unforeseeable events by continually performing backups and testing disaster recovery strategies. This is even more critical for MSPs having hundreds of clients concentrated in a handful of geographic locations, as any disaster impacting one area can impact their customers adversely if recovery plans are not in place.
Hopefully, these 7 Great Disaster Recovery Solutions provided you with some useful insights.