There are a bucketload of dmarc monitoring and management services out there to choose from, ranging from free to stupidly expensive.
This time round we are going to take a look at Easydmarc vs Dmarcly.
If you don't know what Dmarc is all about, please take a look at our "what is Dmarc and how does it work" article.
Easydmarc has a FREE plan which is great for personal domains or small businesses that just want the basics, it also allows you to manage unlimited domains. Prices are then $17.99 / month for the Plus plan and $39.99 for the Premium plan. Plans are cheaper if you go yearly.
Dmarcly does not have any free plan but they do offer trials, and their prices are pretty identical, with the professional plan at $17.99, growth at $39.99, business at $69.99 and Enterprise at $199 per month.
For the purposes of this article, we will be comparing the $39.99 growth and premium plans.
FEATURE
DMARCLY
EASYDMARC
Plan
Growth
Premium
Price (per month)
$39.99 monthly
$35.99 yearly
$39.99
Domains
8
4
Emails
250k
100k
SPF Flattening
Hosted Bimi
Hosted Dmarc
MTA-STS/TLS-RPT reporting
Data history
6 months
1 year
DNS Timeline
DKIM checker
DKIM Record Generator
Processing/rendering of aggregate reports
Processing/rendering of forensic reports
Email Investigation
Aggregate Reports (RUA)
Aggregate Geomaps
Users
3
unlimited
Automatic Subdomain Detection
2 Factor Authentication
Reputation/Blacklist Monitoring
Report Frequency
Daily,weekly,monthly
weekly,monthly
Email Reports

notifications only
Dmarcly
The dmarcly system is very text-based no frills solution, not very visually appealing at all, and feels very much like a legacy web 2.0 app from 20 years ago.
Overall I did not find the dmarcly system very intuitive or nice to use compared to Easydmarc.
The reports are very minimalistic. The whole site/admin interface feels like it was created by developers with no real UI/UX experience. The target audience here is definitely techies, not end users or business owners.
Below is one of the email summary reports. As you can see, rather than an actual report, you get a notification that a report is available, which you have to login to view. This is just time consuming and annoying having to do this. Compare this to the lovely email reports from Easydmarc .
Safe SPF
Frustrated with "SPF PermError: Too Many DNS Lookups"? This can cause emails to not reach the inbox.
SPF allows up to 10 DNS queries upon validation. However, some domains have SPF records requiring 10+ DNS queries, which results in SPF validation failures and deteriorated email deliverability.
The good news is, DMARCLY's Safe SPF feature solves this problem perfectly.
Precise SPF validation
Always up to date
Boost email deliverability
No manual maintenance
ARC support

DMARCLY renders Authenticated Received Chain (ARC) results when the final disposition is overridden by the local policy.
ARC preserves email authentication results across subsequent intermediaries that may modify the message, allowing legitimate messages from indirect mailflows to be delivered.
MTA-STS/TLS Reporting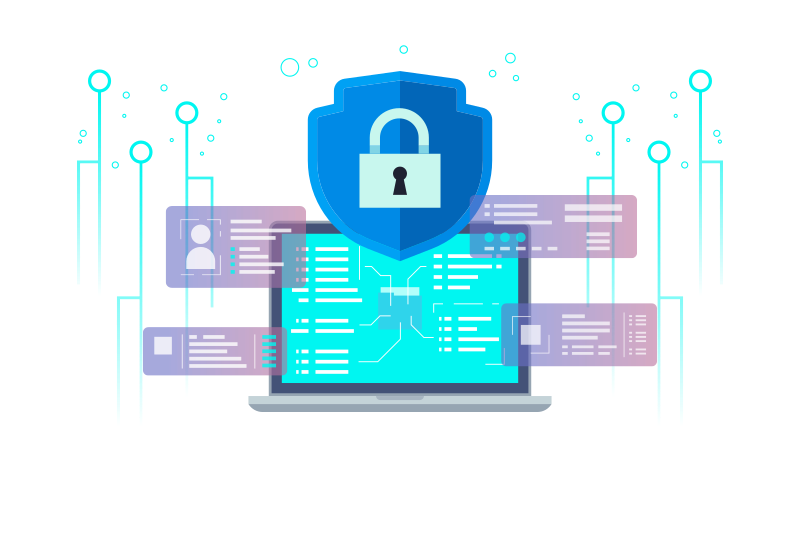 Your email is susceptible to Man-in-the-Middle (MitM) attacks, if you allow messages to be delivered to your domain via unencrypted connections.
Implement MTA-STS/TLS reporting to identify and fix email security issues.
Adaptive Blacklist Monitoring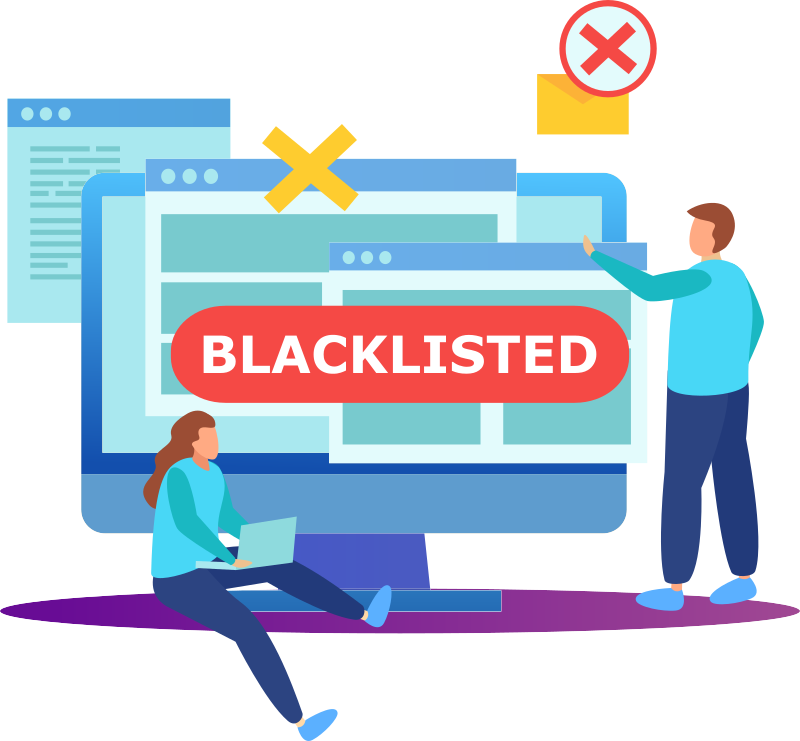 Monitor the reputation of IP addresses from which your outbound emails are actually sent.
Dmarcly check against these industry standard blacklists: Spamhaus ZEN, SpamCop Blocking List, Barracuda Reputation Block List, and Passive Spam Block List.
Multiple Email recipients
One feature I initially thought was useful was that dmarcly allows you to setup multiple email recipients for each domain. Which I thought would make it useful for consultants or MSP's who want to send reports directly to customers.
But alas, this turned out to not be very useful due to the aforementioned fact that the system doesn't actually send reports via email, just notifications telling you to login to view the report. Meaning that every email recipient would actually need a login in order to be able to see the report.
This feature is further deprecated by the limited number of users per account and and there does not appear to be any way to limit a user to a specific domain. So even if you did sent a report to every client, they wouldn't actually be able to login to view it.
Support/Customer Service
I contacted their support a few times with various questions, and while they responded within a timely manner, I found their responses to be very terse. The customer service/support felt as minimalistic as the website UI/UX.
PROS
More domains and email traffic with each plan.
MTA-STS & TLS Reporting
CONS
Poor UI/UX, lack of visualisations. Lacks the intuitive look and feel of easy dmarc.
No email reports, just notifications.
no free plan
No support for MSP's/Resellers
Terse support
EasyDmarc
The Easydmarc app has a beautiful and intuitive interface that is a joy to use and easy to understand, very visual with nice looking icons, graphs and charts everywhere with all the info you need at a glance.
You can tell that a lot of thought went into the UI/UX and that actual UX designers were involved in the process, unlike damrcly. Easydmarc is definitely the better solution for users and business owners but is great for techies too.
The email reports are beautiful and visually tell you everything you need to know, without having to login to your account.
During my time testing Easy Dmarc, I did, however, discover issues with the reporting, the stats would randomly change every time I reloaded the page, giving completely different data for every domain. Same on the aggregate reports.
It took more effort than it should have done to get them to investigate this issue and finally realize the system was broken, and I found it rather worrying that they were oblivious to it and that I was the only user who had noticed it and reported it.
Hosted Dmarc
The Hosted DMARC tool provides a unique CNAME record to update your DNS and start using the feature, preventing the need to visit your DNS each time.
Hosted BIMI
Hosted BIMI helps you to manage BIMI record easily directly within their platform. You need to add a single CNAME record to your domain DNS, after which you can securely host the SVG logo and VMC certificate with Easydmarc.
SMB's are not likely to want or need to bother with BIMI though as it is costly, requiring you to buy a certificate that costs $1400 per year and register your trademark. This is more something for large organizations that already have trademarks.
Easy SPF
By default SPF can not exceed 10 DNS lookup. If it does, then this results in "Too many DNS lookups" issue causing "permerror".
Easy SPF solves this by providing an SPF flattening solution that allows you to Add, remove, update lots of email service providers without being concerned about SPF 10 DNS lookup limitation.
Mitigate and avoid outgoing emails' loss by automatically authorizing new email sending sources even when your DMARC policy is "quarantine" or "reject"
Real-time Reputation Monitoring
Keep an eye on your domain, IP address, and mail server reputation with the advanced blacklist monitoring service. They notify you once you appear in blacklists, so you'll be able to quickly act to get them delisted and avoid potential delivery issues.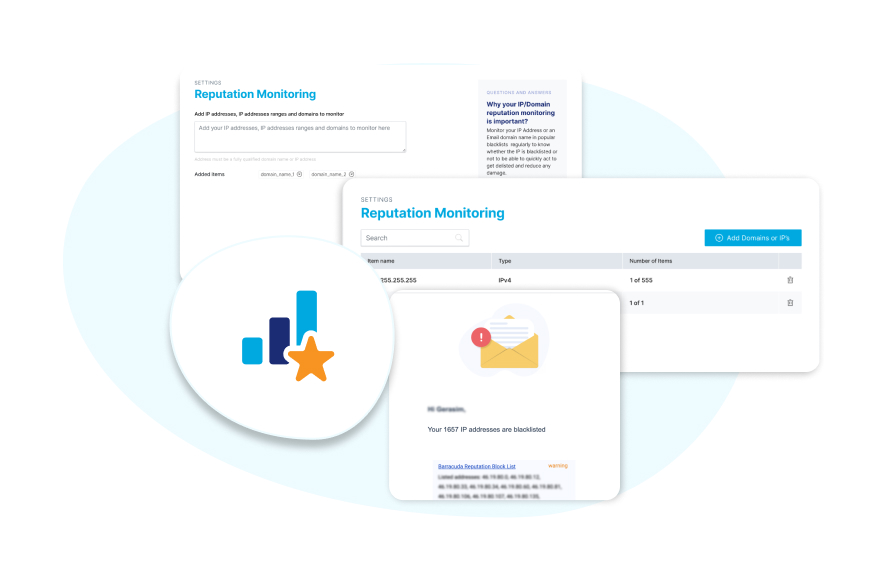 How does Reputation Monitoring work?
EasyDMARC's Blacklist Monitoring service provides indispensable information about your domain, IP address, and mail server blacklist status. Our system delivers automated checks and notifies you if they are found in any blacklist. You can monitor both IP addresses (IP4 and IP6) and domains.EasyDMARC's automated checks run real-time. Our email alert system gives you the link to every IP blacklist provider's website. From there, you'll be able to quickly delist your domain or IP address, and mitigate any damages your email sender reputation may experience.
Email Investigation Tool
Setting up domain alignment initially can be quite a complex task, especially if you have multiple sources such as a CRM, ticket system, billing system, blog etc all sending email from your domain.
The email investigation tool makes this easier. It will generate a special email address, which you use to send emails from each of your sources, and Easydmarc will then tell you if that email passed the domain alignment checks.
However during my time using EasyDmarc, I found that the email investigation tool was incorrectly reporting the domain was not aligned and was failing both SPF and DKIM checks because the domain did not match the return path. This was false, both SPF and DKIM were fine, verified via other tools, Even the error clearly showed that the domain and return path both matched.
When I contacted Easydmarc to report this, they were not interested and told me I needed to upgrade to the Enterprise plan if I wanted them to even look into it.
I had to resort to posting the issue on Twitter to get them to look into it, at which point they confirm there was an issue with the tool.
I understand that they must limit providing support to free users, but bug reports should be taken seriously regardless.
MSP/Reseller Features
Easydmarc state that they have MSP features, however, these are very basic and I would disagree that they are MSP features.
All it really gives you is the ability to manage multiple domains and users and to assign a user to a domain. There is no ability to generate reports and send them to clients. If you want a client to get reports, then you must add them as a user so they can set this up themselves.
There is no option to setup branding, so if you do give a client access, they will know they are using Easydmarc.
Customer Service/Support
In stark contrast to dmacly, I found Easydmarc to very pleasant to deal with and generally more helpful with their responses. While testing out their service I noticed that I was getting emails sent through postmark servers passing the DKIM tests. When I quizzed them on this, they spotted an old dkim record I had left in my DNS.
PROS
Very visual, easy to understand UX/UI that is pleasant to use.
Nice email reports.
Pretty, easy to understand email reports that show you current alignment status at a glance.
Free plan with unlimited domains
Friendly customer service
Reputation monitoring included
Handy email investigation tool
CONS
Less domains & email traffic compared to dmarcly
No MTA-STS & TLS Reporting (although they say it is coming soon)
Very limited/Basic MSP features
Buggy reports
Summary
So which solution is best? This very much depends on your requirements, although you can probably tell I prefer Easydmarc.
If you want a solution that looks nice, generates attractive, easy-to-understand reports either for yourself or to send to clients or you are an MSP looking for a solution to resell, then I would go for Easydmarc.
If you are looking for the cheapest solution with the most domains and don't really care about the visuals and UI or your specific need MTA-STS & TLS Reporting, then go for Dmarcly.
If you are interested in a fully managed domain alignment and Dmarc solution, get in touch.