Many people today are seeking ways to simply, quickly, and safely get files from one place to another. The ability to share files easily through file sharing, file transfer, and other means of file communication helps mobilize business data for optimization. Using Citrix ShareFile is one way to achieve this, as it is an enterprise file synchronization and sharing service (EFSS) that enables you to share files across devices.
If you're looking for an alternative to Citrix ShareFile, there are many options to choose from. I'll go through our top five in this article, with SolarWinds® Serv-U MFT coming in as our top pick. Serv-U MFT offers fast and reliable file sharing for large files, no matter where you are or who you're sending it to, all on an easy-to-use interface. There is a 14-day free trial of Serv-U MFT available for download.
Best Citrix FileShare Alternatives for File Sharing, File Transfer, and File Management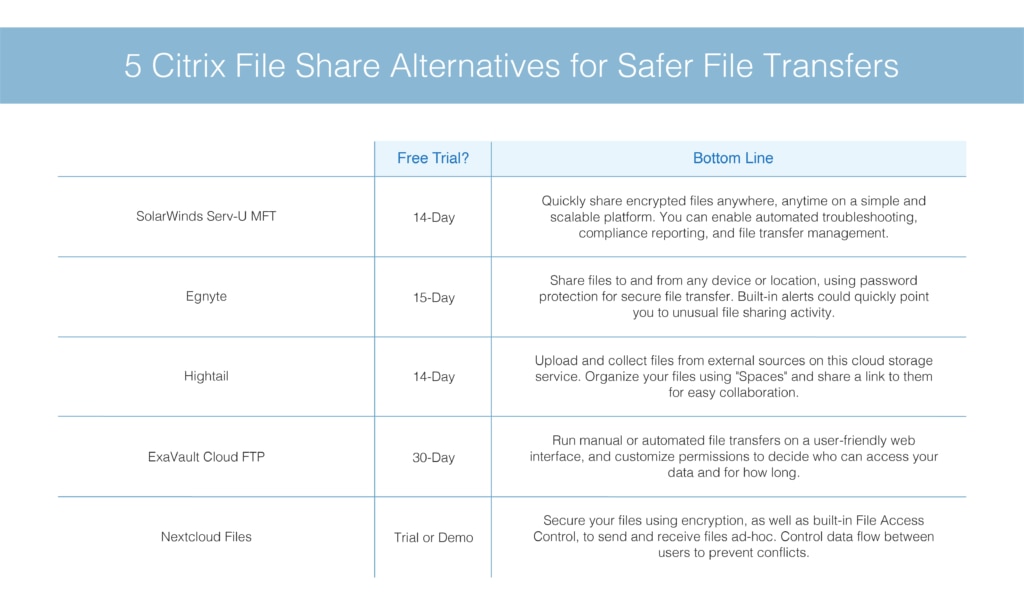 Serv-U MFT is built to support rapid file sharing, file transfers, and folder synchronization no matter where or when. This file sharing tool is made to encrypt large files (file size over 3GB) using FTP, FTPS, SFTP, and HTTP/S protocols. Serv-U MFT could also enable you to utilize certificates and access file-sharing permissions that could be defined at the user, group, or domain level. This helps you ensure only the right people have access to certain valuable or important files.
Using simple drag-and-drop interfaces on a centralized web-based console, Serv-U MFT is built to let you instantly transfer files on web and mobile devices. Along with being easy to use, the Serv-U MFT platform is designed for scalability — you could integrate Serv-U MFT with external database servers and file storage, as well as your own pre-existing security policies or controls. You can enable peer-to-peer file sharing on Serv-U MFT for simplified ad-hoc file sending and requesting.
Serv-U MFT can enable you to utilize automation in order to expedite file transfer management and administrative efforts. Serv-U MFT could perform specific tasks using information generated from certain events on the server, domain, user, or group. You could enable automated email sending, program running, and file deletion on Serv-U MFT, among other capabilities like writing to Windows event log messages. Troubleshooting is also made easier with Serv-U MFT automation, which is designed to automatically track important file activity and create reports.
Along with troubleshooting reports, Serv-U MFT can enable you to automate compliance reporting. These reports could even be forwarded to other tools or teammates, which streamlines collaboration and critical analysis. So not only is Serv-U MFT designed to be a file sharing and transfer tool, but also a tool for fast and reliable enterprise communication. Download a 14-day free trial of Serv-U MFT today.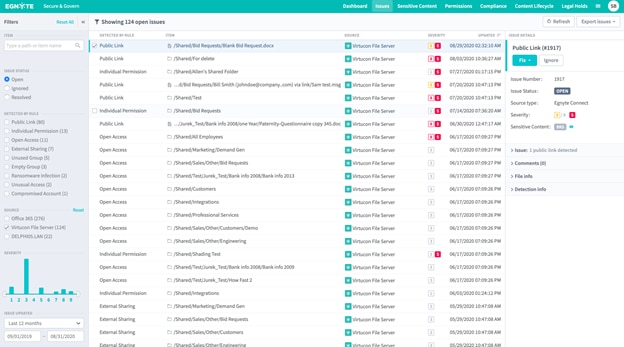 ©2021 Egnyte, Inc. All Rights Reserved
Egynte is a unified content governance platform that enables you to access, share, and collaborate on files. This file sharing tool is made to support remote file sharing, so you can access files on Egnyte from any device and location — even within third-party applications. Egnyte is also designed to let you sync large files in less time, without slowing productivity or wasting bandwidth. By enabling you to only sync the edited parts of certain files to the cloud, Egnyte can help you conserve even more bandwidth.
Egnyte is built to share large files and download links over email using password protection. If you want to securely collect files from external parties through Egnyte, you can use an upload folder that allows for password protection. Note that file sharing secured through password protection is weaker than encryption.
Along with file transfer and protection capabilities, Egnyte is built to alert you whenever there is unusual or out-of-policy file sharing activity. For particularly sensitive or at-risk files, you could automatically restrict permissions and limit external sharing rights in order to further prevent mishandling. A special feature about Egnyte is its recovery capabilities in case of file deletion or attack. Download a 15-day free trial today.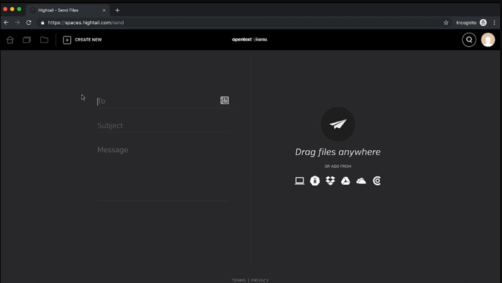 © Copyright 2021 OpenText Corp. All Rights Reserved
Hightail enables you to securely send, receive, and store files through the cloud. This cloud storage service enables you to quickly upload files directly from your computer, or import files from other cloud services like Google Drive or Microsoft One Drive. If you want to collect files ad-hoc from external sources, Hightail enables you to create an Uplink URL that anyone can access, even people without Hightail accounts.
Hightail uses a visual interface that is made up of Hightail "Spaces." A Space is essentially a visual folder that can store and organize all kinds of files, including PDFs and CAD files. Hightail spaces are made to support high-resolution previews and streams of files, designed to let you easily see which files are kept in which Space. Similar to an Uplink URL, Hightail enables you to share a link to your Space so recipients can view multiple files at once.
Files on Hightail are secured using encryption, and you can further protect file sharing by enabling security settings such as protected links, access codes, and expiration dates. Alongside these security methods, Hightail enables you to control your content and decide who gets to receive individual files. There is a 14-day free trial of the Pro, Teams, and Business Hightail plans, which you can compare on their site.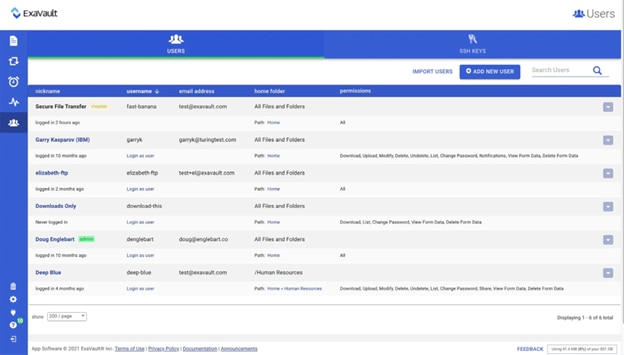 © 2021 ExaVault. All Rights Reserved. ExaVault is a registered trademark of ExaVault, Inc.
ExaVault Cloud FTP is a low-maintenance, user-friendly file transfer platform built with a clear and modern web interface. You can access the ExaVault web interface from any browser to perform data transfers, giving you and your team the ability to streamline file sharing across multiple devices. The ExaVault Cloud platform even enables you to search, click, and share files in those three simple steps for quick connection capabilities.
You could customize ExaVault Cloud permissions in order to decide who is able to access your data, as well as for how long. ExaVault Cloud is also designed to secure file transfer using your preferred encrypted FTP protocol such as SFTP, FTPS, and FTP-SSL. By supporting automated and manual file transfers, ExaVault Cloud enables you to save time and energy when it comes to file share management.
ExaVault Cloud is built to support real-time notifications, which can be customized to report on critical updates as soon as they occur. The ExaVault Cloud platform also leverages customizable widgets, which you could drop upload forms or file transfer interfaces directly into your website. ExaVault Cloud also leverages integration capabilities with ExaVault's API, which enables you to trigger internal automated processes for uploading or downloading files. Download a 30-day free trial of ExaVault Cloud today.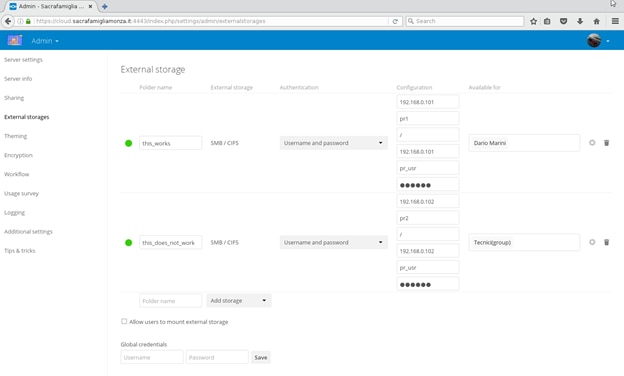 © 2021 Nextcloud GmbH
Nextcloud Files makes file sharing, synchronization, and collaboration easy by enabling you to securely send and receive files ad-hoc. You could share files with other users directly on the server, let collaborators upload files to a private cloud, or use password-protected public links that can easily be shared. This lets your employees and partners have easy access to important files such as photos, documents, and more.
Nextcloud Files uses powerful encryption capabilities to secure files, along with a built-in rule based File Access Control. This enables you to enforce strong password policies and enact brute-force or ransomware protection whenever necessary. Nextcloud Files is designed to support many file sharing techniques including FTP, web-based cloud storage solutions, and on-premise storage devices.
Configuring and integrating these solutions is easy, and NextCloud Files can enable system administrators to control data flow between users or servers for workflow management. This includes locking files, which could help prevent conflicts between users who are trying to simultaneously edit or share a file. Locking is especially important since the Nextcloud Files web interface, desktop clients, and mobile apps all enable you to remotely access files in real-time. You can choose to request a long-term enterprise trial or try the instant demo.
What Does a File Sharing Software do?
The goal of any file sharing software is to securely and swiftly share files between different systems without interruptions, complications, or data loss. A file transfer server will often perform other functions besides file transfer, including remote file access or file synchronization. Many file sharing applications also protect files both in-transit and at-rest, enabling you to securely send and store files across networks.
It is very important to use a capable file sharing service, so you can make sure the right information gets to the right people. Not only can unprotected file transfers cause latency issues or accidental data modifications, but unauthorized users could perform malicious attacks on vulnerable files and steal valuable enterprise information. The best way to safely share a file is a file share tool.
How Does a ShareFile Software Work?
There are many different kinds of file sharing tools available, each of which work in slightly different ways.
Cloud storage
These services, like Google Drive or Dropbox, enable you to upload files into small cloud storage spaces. Oftentimes these tools are specialized web platforms and services, which allow for remote access. However, you usually need to pay extra to send large files (any file size more than 2GB or so) and there can be issues with sharing access in practice.
File compression
This is a specialized tool built to compress a file, meaning it makes the file smaller so it's easier to send. You could send compressed files via email, and some file compression software even enables file encryption and password locking. However, similar to cloud storage solutions, file compression tools often negatively impact file quality.
File Transfer Protocol (FTP)
FTP is often the best kind of file sharing program for meeting enterprise needs. This is because file transfer protocol is made to share files very fast while maintaining good file quality. FTP is not secure on its own, but using an FTP client enables you to encrypt and secure files using SSL/TLS or even HTTP/S. FTP servers also let you share larger files than other options, and many support useful features such as remote access or centralized consoles. Many of the tools recommended for file sharing can act as FTP clients and encrypt FTP file transfer operations.
Final Thoughts on Citrix ShareFile Alternatives
No matter why you need to share files, it's critical to use a tool that promotes fast, easy, and secure file sharing. If you're looking for an alternative to Citrix ShareFile, I recommend SolarWinds Serv-U MFT from the list of tools above. With a simple yet powerful interface, Serv-U MFT enables you to share and receive large files without draining your energy and resources. Download the 14-day free trial of Serv-U MFT